If you do not have great lighting in your home but want to fetch grace to it, then nothing can be a proper choice other than Crystal Chandeliers. Imagine how it will look when through your sunroom natural light will reflect in a resplendent fashion off the crystals of the chandelier. A fixture with many crystals, preferably in different shapes from crystal drum chandelier to pendant chandelier will enhance the ambiance of the room by reflecting different light prisms around the room.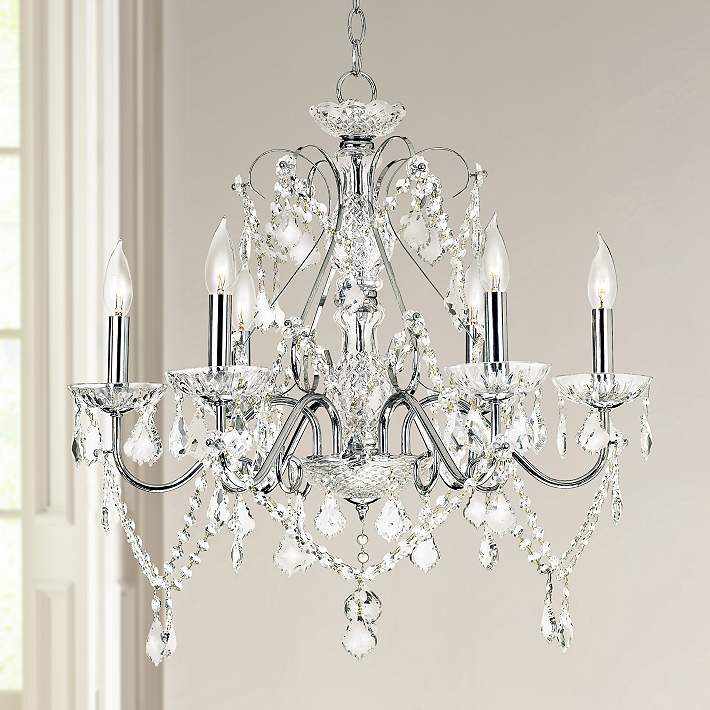 It serves a perfect addition to any modern home decor. Their mesmerizing sparkle and graceful appearance impresses anyone that sets eyes on the lighting fixture. Placing a crystal chandelier can transform any dull and plain room into an entrancing one. It is a must-have ancillary for luxury and upscale hotels, dining places, and residential homes. Before the advent of electricity, crystal chandeliers held the candles high up in the room to ensure maximum illumination.
Useful ideas to place Crystal Chandeliers in a room?
Many houses have dull kitchen rooms that do neither have proper decor nor have accurate lighting. But just a chandelier of crystals can uplift its ambience to a large amount. Hanging it in the center of a kitchen can enhance the look of the room.
Hanging the chandelier over a bathtub is also a great idea. This is especially recommended in modern and luxury homes. Then you would not be able to enjoy a bubble bath underneath a charming glow of this chandelier.
Regular maintenance of the chandeliers is a must. It will ensure that the light is reflected brilliantly off the crystals and the keep chandelier sparkles like new. To clean the crystals, you should spray the crystals with one part isopropyl alcohol and three parts distilled water. Afterwards you should wipe off the solution from the crystal using cotton gloves. You can also use warm, soapy water to clean the crystals.
Avoid having liquids drip off to the frame of the fixture when you are cleaning a crystal chandelier. This will ruin the polished frame of the chandelier, which in most cases is not water resistant.
Consider removing crystal parts from the frame, and cleaning them separately to ensure that no water gets into the frame.
For dusting the crystal chandelier, you can use a make-up brush, lambs wool, or feather duster.
You should consider cleaning and dusting the luminaries every six months at the most. You have to clean them more often if it is placed in a kitchen.
Wherever you place it whether in dining or bathroom , it will bring a sense of sophistication to your steps.
Now-a-days, drum chandeliers are at the top of the list for their unique look. Named after the chandelier's signature drum shade, it establishes a contemporary flair to any room of your space. Gracefully brightening the space, it creates a welcoming ambiance in the environment. Being versatile in nature, it blends into a countless of decor schemes. It exudes soft rays of light throughout your home, adding subtle sophistication to the space. Introducing a country-casual feel to the space, it is attracting addition to any room in your home. It gifts warmth and refinement to your home with it's refreshing and stylish appearance.
If you are new to purchase this type of chandeliers, then you have to research and focus on the below points.
For a small room, consider a chandelier size that is 13 to 22 inches wide. If you have a medium-size room, then choose a chandelier that is 23 to 30 inches wide. If you have a large room, go for a chandelier that is 31 inches wide or larger. In a wide, open room, illuminate the space by adding multiple drum chandeliers or one large drum chandelier. In smaller, more compact spaces, add a mini drum chandelier.
While it may seem intuitive to install a smaller luminary in a small room, a slightly larger version can help create the illusion of a grander room. Long, narrow spaces like formal dining areas look excellent with multiple, evenly spaced drum lights.
When shopping for a drum chandelier, there are a few other things to keep in mind. Some fixtures require special wiring or accessories for safe installation, so it is important to make sure that the chandelier you choose is compatible with your existing wiring. Also, you should be mindful of the bulb type and the type of lighting it is designed to provide.
So chandeliers having a drum-like shape, give your home a stylish vibe and provide bold decorative elements.
Summary: Be it your hall room or a kitchen place, everyone needs some grace to add into their life. Drum shaped chandeliers having crystal in it, is a proper match to your thoughts. Maximum reflection of natural light with the shadow of prisms would surely uplift your mind and get you praises for your choice.